INFO ABOUT SEVASTOPOL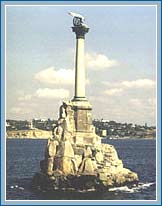 Sevastopol is located in the southwestern region of the Crimean peninsula and has a harbor on the Black Sea. There are many places to see and things to learn. There are the ancient settlements that originated from 4 to 1 BC, and the Greek colony of Chersonese from 422 BC. Sevastopol is also the birthplace of the Christian Cyrillic Alphabet. The baptism of Kiev's Prince Vladimir took place here in 999 AD.

Only a few cities in the world have suffered such severe experiences as Sevastopol. However, Sevastopol is now a beautiful city in which to live, raise a family, conduct business or visit! Translated, Sevastopol means, "The Magnificent City Worthy of Worship"! The famous Russian writer Leo Tolstoy, who participated in the Crimean War said, "In Sevastopol, you could not help feeling pride, courage, and blood pulsating through your veins!" In addition, the history (and friendship) is everywhere in our city. It's in the streets and in our spectacular squares! Our city has beautiful landscapes, a picturesque harbor, wonderful monuments and a museum of history! Sevastopol is just a great city all around! For many years, Sevastopol was a closed city to foreigners. The curtain of mystery surrounding the Ukraine, the Crimean peninsula, and Sevastopol has been lifted, and this region is now open to all visitors! This allows the whole world to explore our great country, region and Sevastopol in particular!

Sevastopol is the largest non-freezing commercial and fishing Black Sea port of the Ukraine. Sevastopol is also one of the major industrial, scientific, and cultural centers of the country and Eastern Europe in general. Located on the site of the ancient Greek colony, Khersonesus, the city itself and the Black Sea Fleet, based in Sevastopol, have occupied a prominent place in Russian and Soviet history.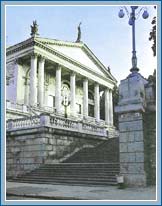 POPULATION: 390.100 (as of 07.01.99), including Russian - 74.4%, Ukrainian - 20.6%, with the remaining 5% comprised of 26 nationalities (Belarusian, Crimean Tartar, Jews, Armenian, Greek, German, Bulgarian, Moldavian, Polish, Estonian, Latvian, Korean, etc.). The majority of the population is Russian-speaking..

ADMINISTRATIVE STRUCTURE: The city is divided into four districts (boroughs) - Leninsky, Nakhimovsky, Gagarinsky, and Balaklavsky. Includes towns of Inkerman and Balaklava and 46 townships (former villages).

OFFICIAL LANGUAGES: Russian and Ukrainian.

MONETARY UNIT: hrivna.

RELIGION: mostly Eastern Orthodox Church.

GOVERNMENT: Governed by the laws of the Ukraine, the city has a special "directly governed" status (unlike other Crimean cities it is directly subordinate to the central Ukrainian government, not the Crimean authorities). The only other city in Ukraine with the same status is the capital, Kiev.

CULTURE, ARTS AND SPORTS: 4 theaters, including the Lunacharsky Theater, one of the oldest Russian theaters; 11 arts and entertainment centers, 10 museums, numerous libraries, including the famous Morskaya Biblioteka (the Navy Library) of the Black Sea fleet; 4 stadiums; and 3 yacht clubs.

TOURIST ACCOMMODATIONS: 10 hotels , 20 restaurants.

PLACES OF INTEREST: The whole city is one big museum, with over 1,800 monuments and memorials. Among them are Russian, Ukrainian, Armenian, British, French, Georgian, German, Greek, Italian, Jewish, and other historic sites such as the world-famous Khersonesus, "Panorama of the Heroic Defense of Sevastopol during the 1854 - 1855 Crimean War", diorama "Storm of Sapun Mountain on May 7, 1944", "British Crimean Military Memorial," etc. Sevastopol is annually visited by more than 500,000 tourists.

Advantageous geographical situation of the city, its favorable natural climatic conditions, as well as the availability of highly developed industrial, scientific, and human resources make the Sevastopol region one of the most promising international tourist, commercial, and industrial centers of Europe.

test